BRIDGE - Innovation and Development
BRIDGE - Innovation and Development (BRIDGE) is a young and fast growing non-governmental organization operating in Georgia, driven by its vision of Georgia free of poverty and suffering.
BRIDGE Founded in 2015, is a spin-off organization of Oxfam in Georgia, with a commitment to sustain grassroot connections and partnerships and supporting agriculture and rural development, advancing gender equality and women's rights, with a focus on rural women and youth and building resilient communities to reduce poverty and stimulate economic growth.
BRIDGE draws on practical skills and experience in advocacy and policy oversight areas, and in campaigns and influencing for pro-poor and gender sensitive policies. These approaches include a strong emphasis on the bottom-up principle of policy development through capacitating, engaging and empowering local civil society actors.
See Our Team
Recent News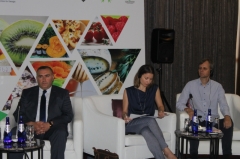 21 June 2019
Georgian Farmers' Congress Discuss Local Market Linkages for Smallholder Farmers - Challamges and Opportunities
On June 21, 2019 at hotel "Hotels and Preference Hualing Tbilisi" Bridge Innovation and Development (BRIDGE) and International Organization People in Need (PIN) organized Georgian Farmers' Congress within the framework of the EU funded programme "Civil Society Organizations Supporting Free Trade with European Union".
At the congress opening speeches were delivered by Cristina Casella, Delegation of the European Union to Georgia; Keti Getiashvili, BRIDGE; Giorgi Khanishvili, Ministry of Environment Protection and Agriculture of Georgia (MEPA) and Ondrej Nadvorni, People in Need
"Starting from 2014, BRIDGE - Innovation and Development annually organizing Georgian Farmers' Congress that is a powerful platform for farmers to have a permanent dialogue with the interested parties, such as government, private sector, and civil society. At today's Congress, the farmers talked about one of the most important problems, that is access to the local market. The event was very important for the Georgian farmers as they were provided with the opportunity to offer their products to the leading Hypermarkets in Georgia that could bring mutual benefits. The event was successful, as we made another step to strengthen ties between farmers and leading local producers," said Keti Getiashvili Bridge Innovation and Development.
The farmers of agricultural cooperatives from the regions of Georgia attended the congress. The representatives of the, Parliament, Governmental and Non-Governmental sectors, International Organizations and Professional Associations were also among the guests of the congress.
The main goal of the congress was to support dialogue between farmers, state bodies and private sector, that is one of the prerequisites for the development of agriculture sector. Participants discussed challenges farmers face in the process of selling their products on local market as well as during production. The Congress also gave a chance to the smallholder farmers to share and establish new contacts for future collaboration.
Georgian Farmers' Congress represents a unique platform, which fosters approximation of decision-making structures with farmers and ensures dialogue between stakeholders.
Background: The project is part of the EU assistance aimed at strengthening capacities of Civil Society Organizations located in Georgian rural regions, and supports the integration of Georgia into the EU market
On March 20, 2019 members of Bridge- Innovation and Development (BRIDGE) started mobilization activities in two villages of Tsalka...
Continue
On March 1, 2019 Black Sea Sustainable Rural Tourism Program (BSST) at International Black Sea University in cooperation of Bridge - innovation and...
Continue
On February 28,2019, the signing ceremony was held for the four Projects: Three (3) Green Policy and One (1) Humanitarian De-Mining projects, within...
Continue