BRIDGE - Innovation and Development
BRIDGE - Innovation and Development (BRIDGE) is a young and fast growing non-governmental organization operating in Georgia, driven by its vision of Georgia free of poverty and suffering.
BRIDGE Founded in 2015, is a spin-off organization of Oxfam in Georgia, with a commitment to sustain grassroot connections and partnerships and supporting agriculture and rural development, advancing gender equality and women's rights, with a focus on rural women and youth and building resilient communities to reduce poverty and stimulate economic growth.
BRIDGE draws on practical skills and experience in advocacy and policy oversight areas, and in campaigns and influencing for pro-poor and gender sensitive policies. These approaches include a strong emphasis on the bottom-up principle of policy development through capacitating, engaging and empowering local civil society actors.
See Our Team
Recent News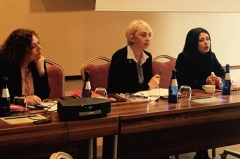 29 January 2019
On January 28, 2019 Save the Children in cooperation with its partner organization Bridge – Innovation and Development, Black Sea Eco-Academy and Emergency Management Service of the Ministry of Internal Affairs of Georgia conducted Resilience Forum in Batumi.
The event was attended by the representatives of Emergency Management Service of the Ministry of Internal Affairs and international, local and private sector organizations working on DRR.
Organizers of the event made presentation about the establishment of Adjara Resilience Forum and its Institutionalization, resilience as concept of multi sector cooperation, education component of the disaster risk reduction and summary of the final results of the whole programme.
Resilience platform was established in Adjara with support of Oxfam. Bridge- Innovation and development and Black Sea Eco Academy and based on this experience the platform has been enhanced on national level which since now will be coordinated by the of Emergency Management Service of the Ministry of Internal Affairs.
National Residence Platform is multi sector and unites local and national government institutions, academic and private sectors.
The meeting was conducted within the framework of "Institutionalization, replication and dissemination of ECHO DRR interventions in South Caucasus" project funded by European Commission's Civil Protection and Humanitarian Aid Department (ECHO), implemented in Georgia and Armenia.
On 29th of November 2018 Emergency Management Service and International Organization "Save the Children" in partnership with...
Continue
On November 9, 2018 at Betsy's Hotel at Bridge-Innovation and Development hold Advocacy National Forum. The meeting was attended by the...
Continue
Bridge Innovation and Development together with Emergency Management Service and international and local NGOs "Save the children",...
Continue