BRIDGE - Innovation and Development
BRIDGE - Innovation and Development (BRIDGE) is a young and fast growing non-governmental organization operating in Georgia, driven by its vision of Georgia free of poverty and suffering.
BRIDGE Founded in 2015, is a spin-off organization of Oxfam in Georgia, with a commitment to sustain grassroot connections and partnerships and supporting agriculture and rural development, advancing gender equality and women's rights, with a focus on rural women and youth and building resilient communities to reduce poverty and stimulate economic growth.
BRIDGE draws on practical skills and experience in advocacy and policy oversight areas, and in campaigns and influencing for pro-poor and gender sensitive policies. These approaches include a strong emphasis on the bottom-up principle of policy development through capacitating, engaging and empowering local civil society actors.
See Our Team
Recent News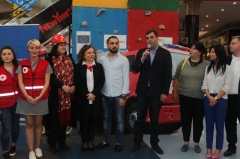 12 October 2018
Bridge Innovation and Development together with Emergency Management Service and international and local NGOs "Save the children", "Red Cross", ASB, IOM, CENN, "DRR center", "Civitas Georgia" and Tbilisi Mayor project "100 resilient cities" celebrated International Disaster Risk Reduction celebration day at Tbilisi Mall on October 12, 2018
This year Georgia celebrated International DRR Day for the fourth time. Organizations presented materials like publications, videos, researches that reflected DRR activities implemented by them. Children had opportunities to climb on the special climbing wall installed in the mall where EMS fireman rescuers with relevant security equipment helped children to reach the top of the wall. Participants had a chance to watch simulation of rescue operation conducted by EMS firemen rescuers and see their cars and equipment.
On September 24th , 2018 Emergency Management Service and International Organization "Save the Children" in partnership with...
Continue
On July 10th 2018 with the support of Bridge-Innovation and Development (BRIDGE) GPI-Holding in terms of "Small Business Support...
Continue
On 7th of July 2018 Bridge-Innovation and Development organized training for Telavi municipality Kindergartens'...
Continue