BRIDGE - Innovation and Development
BRIDGE - Innovation and Development (BRIDGE) is a young and fast growing non-governmental organization operating in Georgia, driven by its vision of Georgia free of poverty and suffering.
BRIDGE Founded in 2015, is a spin-off organization of Oxfam in Georgia, with a commitment to sustain grassroot connections and partnerships and supporting agriculture and rural development, advancing gender equality and women's rights, with a focus on rural women and youth and building resilient communities to reduce poverty and stimulate economic growth.
BRIDGE draws on practical skills and experience in advocacy and policy oversight areas, and in campaigns and influencing for pro-poor and gender sensitive policies. These approaches include a strong emphasis on the bottom-up principle of policy development through capacitating, engaging and empowering local civil society actors.
See Our Team
Recent News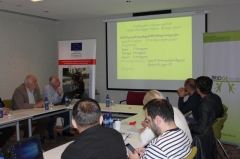 09 November 2018
On November 9, 2018 at Betsy's Hotel at Bridge-Innovation and Development hold Advocacy National Forum.
The meeting was attended by the representatives of Keda, Shuakhevi, Khulo, Dusheti, Tianeti and Telavi municipalities, local government and community members, representatives from Emergency Management Service and project partner organization Black Sea Eco Academy.
Participants of the forum had discussions around the activities implemented in 6 municipalities in terms of the Disaster Risk Reduction Programme funded by DG European Civil Protection and Humanitarian Aid Operations, highlighted successes, present challenges and discussed the sustainability issue of resource centers created in terms of the project. They agreed to continue the advocacy process with local and national government to maintain existed resource centers operational and ensure tat all results, good practices and models achieved since 2010 till present are replicated, institutionalized and disseminated throughout the country.
The event was held within the project "Institutionalization, replication and dissemination of ECHO DRR interventions in South Caucasus" funded by the European Commission's Civil Protection and Humanitarian Aid Department (ECHO)" and implemented in partnershio with Save the Children. The project is implemented in Georgia and Armenia in terms of Disaster Risk Reduction 5th phase and it aims to institutionalize, replicate and disseminate good practices and models of DIPECHO program previous phases in the regions of Georgia
Bridge Innovation and Development together with Emergency Management Service and international and local NGOs "Save the children",...
Continue
On September 24th , 2018 Emergency Management Service and International Organization "Save the Children" in partnership with...
Continue
On July 10th 2018 with the support of Bridge-Innovation and Development (BRIDGE) GPI-Holding in terms of "Small Business Support...
Continue