BRIDGE - Innovation and Development
BRIDGE - Innovation and Development (BRIDGE) is a young and fast growing non-governmental organization operating in Georgia, driven by its vision of Georgia free of poverty and suffering.
BRIDGE Founded in 2015, is a spin-off organization of Oxfam in Georgia, with a commitment to sustain grassroot connections and partnerships and supporting agriculture and rural development, advancing gender equality and women's rights, with a focus on rural women and youth and building resilient communities to reduce poverty and stimulate economic growth.
BRIDGE draws on practical skills and experience in advocacy and policy oversight areas, and in campaigns and influencing for pro-poor and gender sensitive policies. These approaches include a strong emphasis on the bottom-up principle of policy development through capacitating, engaging and empowering local civil society actors.
See Our Team
Recent News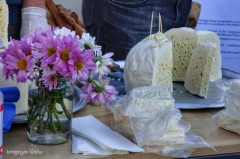 27 November 2021
On the 27th of November 2021, the BRIDGE team organized "Cheese Promo Day" in the village of Alaverdi at "Blue Alaverdi's" premises. The event is part of the project "Support for Quality Cheese Value Chain and Local Entrepreneurship Development and Promotion in Akhmeta Municipality" and is co-financed within the framework of the Polish development cooperation of the Ministry of Foreign Affairs of the Republic of Poland.

18th of September 2020 BRIDGE-Innovation and Development together with Georgian Environmental Organization "CENN" organized training for...
Continue
Bridge Innovation and Development together with Emergency Management Service and international and local NGOs "Save the children",...
Continue
On September 24, 2019 members of Bridge- Innovation and Development (BRIDGE) and representatives of Japan Embassy visited two villages of Tsalka...
Continue