BRIDGE - Innovation and Development
BRIDGE - Innovation and Development (BRIDGE) is a young and fast growing non-governmental organization operating in Georgia, driven by its vision of Georgia free of poverty and suffering.
BRIDGE Founded in 2015, is a spin-off organization of Oxfam in Georgia, with a commitment to sustain grassroot connections and partnerships and supporting agriculture and rural development, advancing gender equality and women's rights, with a focus on rural women and youth and building resilient communities to reduce poverty and stimulate economic growth.
BRIDGE draws on practical skills and experience in advocacy and policy oversight areas, and in campaigns and influencing for pro-poor and gender sensitive policies. These approaches include a strong emphasis on the bottom-up principle of policy development through capacitating, engaging and empowering local civil society actors.
See Our Team
Recent News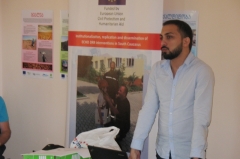 13 June 2018
On June 2018 Bridge Innovation and Development conducted series of trainings related to "Common Tools for Vulnerability Assessment"(CTVA) and its Practical Use" in three municipalities of Georgia (Tianeti, DusheTi and Telavi)\. The event was organized within the project "Institutionalization, Replication and Dissemination of ECHO DRR Interventions in South Caucasus" funded by the European Commission's Civil Protection and Humanitarian Aid Department (ECHO)".
Training was attended by local government and community representatives.
The aim of the training was to raise awareness of the population regarding disaster risk preparedness and reduction as well as prioritization of disaster risk reduction in public policy documents and plans, also strengthening local municipalities and community to ensure their resilience.
Participants discussed the issues related to Common Tools Vulnerability Assessment, its designation and usage. The tool comprises of a questionnaire with integrated formula for weight calculation and corresponding database. CTVA is intended to complement planning of disaster risk reduction efforts and interventions and accelerate risk assessment process at any outlined area, using simple risk scores in accordance with average share coefficient
The tool enables unbiased, comparative assessment of risk and vulnerability within a geographically delimited area and is designed to be easy, cost-effective and fast in use.
The timely, effective and accurate assessment of disaster risk is the important part of disaster risk reduction planning and management process. Availability of vulnerability and risk comparable data creates opportunities to the government and agencies to plan priority interventions to reduce natural disaster impact and to implement various activities in respective areas at a time and place they seem most needed and valuable.
On June 2018 Bridge Innovation and Development in three municipalities of Georgia (Tianeti, DusheTi and Telavi) accomplished the series of trainings...
Continue
On March 28 at "Rooms Hotel" Tbilisi Municipality City Hall together with The Emergency Management Agency and Arbeiter-Samariter- Bund...
Continue
On March 15, 2018 Bridge -Innovation and Development hold an official opening of BRIDGE new office in Tbilisi and presented the findings of the...
Continue