BRIDGE - Innovation and Development
BRIDGE - Innovation and Development (BRIDGE) is a young and fast growing non-governmental organization operating in Georgia, driven by its vision of Georgia free of poverty and suffering.
BRIDGE Founded in 2015, is a spin-off organization of Oxfam in Georgia, with a commitment to sustain grassroot connections and partnerships and supporting agriculture and rural development, advancing gender equality and women's rights, with a focus on rural women and youth and building resilient communities to reduce poverty and stimulate economic growth.
BRIDGE draws on practical skills and experience in advocacy and policy oversight areas, and in campaigns and influencing for pro-poor and gender sensitive policies. These approaches include a strong emphasis on the bottom-up principle of policy development through capacitating, engaging and empowering local civil society actors.
See Our Team
Recent News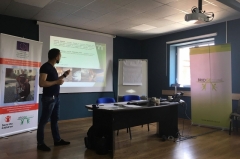 10 July 2018
On July 10th 2018 with the support of Bridge-Innovation and Development (BRIDGE) GPI-Holding in terms of "Small Business Support Program " organized training on "Disaster Risk Management for Private Sector" specially for small and medium entrepreneurs. The aim of the training was to provide basic information to entrepreneurs about the risks toward which the most venerable are small and medium businesses and help them to reduce the damage caused by natural disasters.
Training module was prepared by BRIDGE in terms of the project "Institutionalization, Replication and Dissemination of ECHO DRR Interventions in the South Caucasus" funded by the European Commission's Civil Protection and Humanitarian Aid Department (ECHO). BRIDGE organized this event to support private sector representative's awareness raising about natural disaster risk management and reduction.
Last Year after the fire at the Tbilisi shopping center called "Children's' World" GPI worked out social project that was oriented to support development of small and medium businesses in Georgia, number of small and medium entrepreneurs benefited from this project. Today society still have problems to deal with the results of natural disasters and this is an issue particularly for small businesses. "Small Business Support Project'' is the continuation of last year campaign and today's training was first part of this process. The project not only covers special offers on insurance packages but also the provision of necessary information and knowledge to entrepreneurs about the management of the risk that can become an obstacle for their businesses
On 7th of July 2018 Bridge-Innovation and Development organized training for Telavi municipality Kindergartens'...
Continue
Georgian Farmers Congress Discuss Opportunities and Challenges of the EU-Georgia DCFTA On June 15, 2018 at hotel "Betsy' Bridge...
Continue
On June 2018 Bridge Innovation and Development conducted series of trainings related to "Common Tools for Vulnerability Assessment"(CTVA)...
Continue