Civil Society Promoting DCFTA in Georgia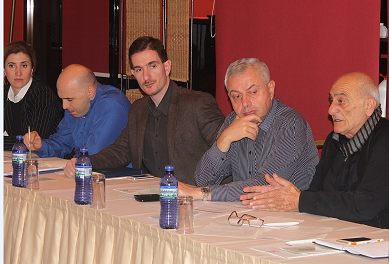 The project Regional Civil Society Organizations as Vectors of Rural Economic Development that is promoting DCFTA in Georgia is funded by European Commission and is implemented by Czech organization People in Need in partnership with local organizations. BRIDGE – Innovation and Development as a secretariat and coordinator organization of Georgian Alliance on Agriculture and Rural Development (GAARD) is ensuring the process is coordinated in collaboration with CSO's and farmers issues are on the agenda in connection to DCFTA.
Overall, the project is a contribution to the acceleration of Georgia's European integration. The project aims at strengthening region-based civil society organizations (CSOs) along the implementation of Deep and Comprehensive Free Trade Area (DCFTA) - part of the Association Agreement of Georgia with the European Union, and along the implementation of the national policy on small and medium enterprises (SME).
Region-based SME and particularly rural entrepreneurs with limited access to expertize, finance and difficulties entering new markets have to eventually comply with DCFTA regulations. In this regard, regional CSOs can serve as effective vectors of democratic and socio economic development in the rural regions.
Improving the target CSOs' position to advocate and engage in the policy dialogue and linking with national-level CSO networks such as the Georgian Alliance on Agriculture and Rural Development (GAARD) enabling them to monitor the effects of DCFTA and SME policy on local producers and SMEs and contribute to formulation of policy recommendations. Hence, the evidence based documents has very important role while having political dialogue BRIDGE is supporting Alliance in identifying the priority issues and advocating them. In this regard BRIDGE is supporting Alliance to act toward successful implementation of DCFTA with its partners within the above mentioned project.