Support Business to Business Model Development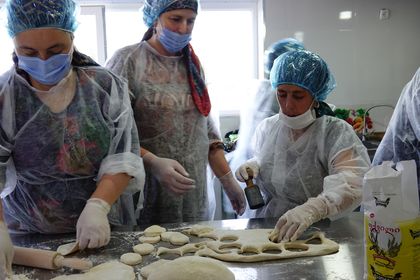 BRIDGE-Innovation and Development (BRIDGE) implemented Caritas Poland funded project support to "Business to Business" model development in Akhemta municipality. The project aimed to capacitate and enabling two local partners, Day Care Center "Medina 2015" from Pankisi gorge and Women's group "Alaverdi Blue" from village Alaverdi, to run joint business.
Despite the fact that the project was implemented in the time of the COVID-19 pandemic, due to the diligence of each of the partners engaged in this project, significant results have been achieved, these are: The Day Care Centre "Medina 2015" has obtained a new, culinarian therapy workshop with necessary equipment on top of other classes they used to have, which will be used as income generation activity as well. The product produced by PwD beneficiaries was named "Khinkali from Pankisi" and will be sold in village Alaverdi at "Alaverdi Blue" café run by women's group.
Furthermore, the Centre has got all the necessary equipment needed to access state voucher funding for its beneficiaries; "Alaverdi Blue" women's group, with the support of BRIDGE, obtained all major equipment for café operations, meeting food safety standards. Due to the COVID-19 pandemic, it was decided to open a café in spring 2021.
Both "Medina 2015" and "Alaverdi Blue" members have improved various type of skills and capacities, such as culinarian, entrepreneurship, business partnership, marketing, and fundraising, etc., those have been demonstrated during the implementation of the project;
Due to project intervention, both "Medina 2015" and "Alaverdi Blue" members have got significant encouragement, which leads the generation of more new business ideas. The most demanding one is the online selling of products produced by both partners. Given the new reality influenced by the COVID-19 pandemic online selling will allow both partners to generate steady income. Partners plan to fundraise jointly on this idea.
Project duration: In the period of July 15th to October 15th, 2020