Cheese Promo Day at Alaverdi Blue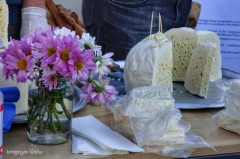 On the 27th of November 2021, the BRIDGE team organized "Cheese Promo Day" in the village of Alaverdi at "Blue Alaverdi's" premises. The event is part of the project "Support for Quality Cheese Value Chain and Local Entrepreneurship Development and Promotion in Akhmeta Municipality" and is co-financed within the framework of the Polish development cooperation of the Ministry of Foreign Affairs of the Republic of Poland.
Cheese Day aimed to promote environmentally friendly farming practices, as well as to link cheese producers and facilitate the establishment of business relationships and cooperation between them.
Participating farmers demonstrated some traditional cheese-making techniques and shared details of various types of cheese production with visitors.
The motto of the event was "Fresh, Healthy, Local!