Georgian Alliance on Agriculture and Rural Development Plenary Meeting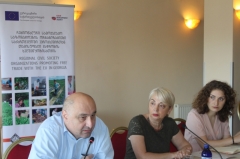 On 15th of June 2019 Georgian alliance on Agriculture and Rural Development (GAARD)another plenary meeting was organized in partnership with People in Need with the support of EU within the project promoting "Regional Civil Society Organizations as Vectors of Rural Economic Development ". The coordinated and secretariat process of the Georgian Alliance on Agriculture and Rural Development (GAARD) is driven by BRIDGE – Innovation and Development.
Representative of PMC Research center Mikheil Skhiereli presented a policy brief about "Economy Diversification in Rural Areas of Georgia". The goal of the Policy brief was to investigate the challenges existed in rural areas of Georgia and development of relevant recommendations.
The another policy brief about "Recognition of LEADER methodology as an effective tool for the development of rural areas of Georgia" was presented by the representative of Mercy Corps Giga Sarukhanashvili and member of Georgian Local Action Groups Association Lana Chaduneli.
Alliance members reviewed the recommendations developed based on findings of the policy briefs and discussed in what way it should be advocated to decision makers.
The meeting was attended by the representatives of new organization "Agricultural Cooperatives Development Fund" and Union-Association "Agora" who expressed their interest for becoming the member of the alliance and discussed the ways of cooperation with the alliance, made brief presentations about their work and future of cooperation with alliance.
Participants agreed that alliance will continue in future active advocacy of the recommendations given in the policy briefs and other issues discussed at the plenary with relevant governmental institutions.