Monitoring Visit to Tsalka Municipality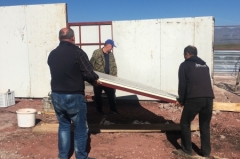 On September 24, 2019 members of Bridge- Innovation and Development (BRIDGE) and representatives of Japan Embassy visited two villages of Tsalka Municipality where the construction of two workshops for production of biological bricks is undergoing, that is planned in terms of Japan embassy green policy initiated project.
Meeting were attended by the head of municipalities and local population. Bridge and Embassy representatives met with local community members in both villages, who once again emphasized the benefits of the project for improvement of their living conditions and creation of good practice to avoid deforestation in Georgia.
The project was developed by experts of BRIDGE and this is going to substitute usage of firewood with biologically clean breaks and will create a good precedent for replication. It will also cost about twice less than firewood, which is very important for poverty alleviation among ecological migrants, residing in Tsalka.
The Human Security Grant Assistance for Grassroots Projects (GGP) assists to relatively small projects and aims at improvement of human security in Georgia. It applies to projects in the field of sustainable agriculture, environment protection, poverty alleviation, public health, education, social protection etc.