International Disaster Risk Reduction Day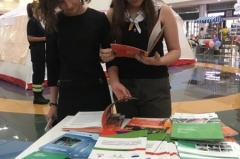 Bridge Innovation and Development together with Emergency Management Service and international and local NGOs "Save the children", "Red Cross", ASB, IOM, CENN, "DRR center", "Civitas Georgia" and others celebrated International Disaster Risk Reduction day at Tbilisi Mall on October 13, 2019/
This year Georgia celebrated International DRR Day for the fifth time and its main goal was to support public awareness raising towards disaster risk reduction and preparedness issues.
Organizations presented materials like publications, videos, researches that reflected DRR activities implemented by them. Children had opportunities to climb on the special climbing wall installed in the mall where EMS fireman rescuers with relevant security equipment helped children to reach the top of the wall.
Participants had a chance to watch simulation of rescue operation conducted by emergency service firemen rescuers and participate in the simulation as well as see their cars and equipment.
Disaster Risk reduction International Day with decision of UN General Assembly was established in 1989 and in Georgia it is marked since 2015