Disaster Risk Management for Private Sector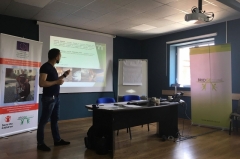 On July 10th 2018 with the support of Bridge-Innovation and Development (BRIDGE) GPI-Holding in terms of "Small Business Support Program " organized training on "Disaster Risk Management for Private Sector" specially for small and medium entrepreneurs. The aim of the training was to provide basic information to entrepreneurs about the risks toward which the most venerable are small and medium businesses and help them to reduce the damage caused by natural disasters.
Training module was prepared by BRIDGE in terms of the project "Institutionalization, Replication and Dissemination of ECHO DRR Interventions in the South Caucasus" funded by the European Commission's Civil Protection and Humanitarian Aid Department (ECHO). BRIDGE organized this event to support private sector representative's awareness raising about natural disaster risk management and reduction.
Last Year after the fire at the Tbilisi shopping center called "Children's' World" GPI worked out social project that was oriented to support development of small and medium businesses in Georgia, number of small and medium entrepreneurs benefited from this project. Today society still have problems to deal with the results of natural disasters and this is an issue particularly for small businesses. "Small Business Support Project'' is the continuation of last year campaign and today's training was first part of this process. The project not only covers special offers on insurance packages but also the provision of necessary information and knowledge to entrepreneurs about the management of the risk that can become an obstacle for their businesses