Georgian Farmers' Congress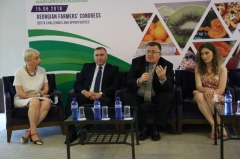 Georgian Farmers Congress Discuss Opportunities and Challenges of the EU-Georgia DCFTA
On June 15, 2018 at hotel "Betsy' Bridge Innovation and Development (BRIDGE) and International Organization People in Need (PIN) organized Georgian Farmers' Congress within the framework of the EU funded programme "Civil Society Organizations Supporting Free Trade with European Union".
Up to 50 farmers throughout Georgia had the opportunity to meet with government representatives and stakeholders.
Keti Getiashvili - BRIDGE, George Khanishvili - Ministry of Environment Protection and Agriculture of Georgia, George Misheladze -Agricultural Cooperatives Development Agency of Georgia and Nana Peradze – People in Need opened the conference with keynote speeches.
"I would like to remind you 2017 December when we hold ENPARD closure event, where we were discussing ways how to continue cooperation and our support to agricultural cooperatives in Georgia. Today BRIDGE continues cooperation with agricultural cooperatives with this form though we have more initiatives for future. The success of any agricultural cooperative is not the success of one concrete business or any single family but its more than that because they become role models and create huge motivation for other farmers -Keti Getiashvili Bridge Innovation and Development."
The farmers of agricultural cooperatives from the regions of Georgia attended the congress. The representatives of the Parliament of Georgia, Governmental and Non-Governmental sectors, International Organizations and Professional Associations were also among the guests of the congress.
Farmers talked about the challenges and opportunities regarding DCFTA, how they can benefit from the Deep and Comprehensive Free Trade Agreement (DCFTA) between Georgia and the European Union and discussed the role of the Government in the process of formation of the politics to respond to the challenges.
Today's event and forthcoming events should boost in the population the faith to produce more local production, the involvement of youth is also very inspirational who are trying to be successful, for us world space is open and this is a hug perspective. I am keen that each of you benefit from DCFTA the future of the country is in your hands and I would like you to convince others that Georgia has huge potential, during last year the import was replaced with 600 million products. Georgia has 10.2 Billiard potential with the help of which we can enter international market. There are many disorders in agriculture sector but at the same time there are DCFTA requirements on place that we are trying to fulfill step by step- George Khanishvili Deputy Minister of the Ministry of Agriculture and Environment.
The main goal of the congress was to support dialogue between farmers and state bodies that is one of the prerequisites for the development of agriculture sector. Participants discussed issues and opportunities for food and agriculture sector in terms of DCFTA, value chain analysis regarding DCFTA and DCFTA resource desks in the regions of Georgia.
At this moment, we produce 12 types of herbal tea as regard to export with the help of ENPARD program in 2016 we started selling the product at initial stage only in Georgia market but in several months, we exported to Holland which caused huge interest. European market in terms of regulations is united but the taste is different, each market needs thorough analysis and local producers and farmers need help in this" - Natalia Pirtskhaladze Agricultural Cooperative "Kona"
Georgian Farmers' Congress represents a unique platform, which fosters approximation of decision-making structures with farmers and ensures dialogue between stakeholders.
Background: The project is part of the EU assistance aimed at strengthening capacities of CSOs located in Georgian rural regions, and supports the integration of Georgia into the EU markets.