Innovation Technology Demonstration Day in Tianeti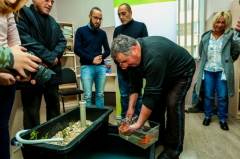 On October 29th in Tianeti, BRIDGE – Innovation and Development (BRIDGE), with the support of International Visegrad Fund and invited experts from Poland and Hungary together with the selected group of people from Tianeti and Dusheti community held practical and visual demonstration of innovation technologies, particularly Aquaponics and Water Heating Devices. This initiative encouraged local individuals and communities for a replication of presented new technologies in another area.
The event brought together, Head of Tianeti Municipality, Deputy Mayor of Tianeti, media representatives, representatives of local municipal authorities, community members, local entrepreneurs and members of civil society organizations and other interested parties.
Local community members participated in the construction process of the aforementioned technologies together with the experts from Poland and Hungary. They expressed interest to replicate these constructions in their household and communities will strengthen their resilience to disasters, build household capacities for income generation and energy saving, as well as climate change adaptation