Plenary Meeting of Georgian Alliance on Agriculture and Rural Development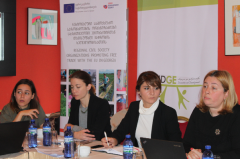 On 9th of November, 2017 Georgian Alliance on Agriculture and Rural Development (GAARD) held another plenary meeting.
The meeting was attended by the representatives of the alliance member organizations, Cristina Casella Attaché on agriculture at EU delegation to Georgia, International Fund For Agricultural Development (IFAD), Consulting Group GEPRA and PMC Research Center.
Participants reviewed and discussed topics related to National Strategy for Agricultural Extension in Georgia, Parliamentary Agrarian committee conclusion on Food Security Bill and future steps on that regard, Communication Strategy of GAARD provided by GEPRA and presentation on Policy brief on DCFTA particularly State Program "Plant the Future"
Alliance agreed to prepare conceptual document based on Food Security bill which will be presented later to the relevant government bodies.
"We will support Alliance in advocacy process for Food security Bill to ensure that food security issues are in the agenda of government of Georgia" – Cristina Cassela Attaché on agriculture at EU delegation to Georgia.
Interesting discussions followed on communication strategy of alliance presented by GEPRA consulting group and the presentation of policy brief about "Preliminary Assessment of the State program "Plant the Future". Policy brief covers challenges of the program and provide recommendations for its improvement.
At the end of the day PMC Research Center officially became the member of Alliance.
"We were observing GAARD and its activities very attentively and taking into account that PMC Research Center is actively involved in rural and agriculture development process it became evident that Alliance and our organization future plans are similar in regard to agriculture and rural development. We approached BRIDGE to accept us in the alliance and we are keen to work actively together with the alliance to reach common goals in future" Zaza Broladze Executive Director.
Additional Information:
The coordinated and secretariat process of the Georgian Alliance on Agriculture and Rural Development (GAARD) is driven by BRIDGE – innovation and development. The above-mentioned event was organized in partnership with People in Need with the support of EU commission within the project promoting Regional Civil Society Organizations as Vectors of Rural Economic Development.
#PINGeorgia #DCFTA #Free #Trade #EU