Innovations for Rural Community Resilience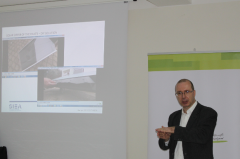 On November 3rd in Dusheti, BRIDGE – Innovation and Development (BRIDGE), with the support of International Visegrad Fund (http://visegradfund.org/home/) held another introductory training on innovation technologies that are related to Disaster Risk Reduction and Climate Change and are designated to resilience and capacity building, climate change adaptation, rural development and strengthening local livelihoods.
The event brought together representatives of municipal authorities, community members, local entrepreneurs, members of civil society organisations and other interested parties from Dusheti and Tianeti to rise their awareness on issues of climate change adaptation and disaster risk reduction.
Expert form Slovakia introduced them with innovative technologies related to income generation and energy saving, as well as good practices of Slovakia.
Follow up workshops will be held in November to practically demonstrate and jointly with locally selected individuals construct two facilities (each per municipality) to encourage local individuals and communities for a replication of presented new technologies.