Innovations for Rural Community Resilience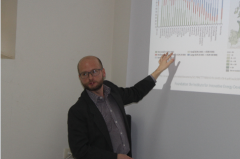 On October 26th and 27th in Dusheti and in Tianeti BRIDGE – Innovation and Development (BRIDGE), with the support of International Visegrad Fund (http://visegradfund.org/home/ ) held introductory training on innovation technologies that are related to Disaster Risk Reduction and Climate Change and are designated to resilience and capacity building, climate change adaptation, rural development and strengthening local livelihoods.
The event brought together representatives of local municipal authorities, community members, local entrepreneurs, members of civil society organizations and other interested parties to raise their awareness on issues of climate change adaptation and disaster risk reduction. What's important to introduce them with innovative technologies related to income generation and energy saving, as well as good practices of Visegrad countries and mainly through sessions delivered by experts from Poland and Czech Republic.
During this stage, the attendees gained information and theoretical knowledge about various technologies and constructions that can be set up using cheap and locally accessible materials. At the end of day, they selected the most relevant and needed options coming out of their current needs.
Following initial series of training, follow up workshops will be held to practically demonstrate and jointly with locally selected individuals construct two facilities (each per municipality) to encourage local individuals and communities for a replication of presented new technologies.
Experts visited Georgian farmers in Tianeti mainly agricultural cooperative "Tianetis Nobati" which consists of 9 members and its main direction is the non-timber forest product and fruit processing, financed by European Union Neighborhood Program (ENPARD).
Experts also visited two women led agricultural cooperative pilot project, flower greenhouse which was installed with the support of Bridge Innovation and development and financed by SDC. Alstroemeria seedlings were planted in March 2017 and flowers are already on the market.