Nino Gvianishvili
Founder and General Assembly Member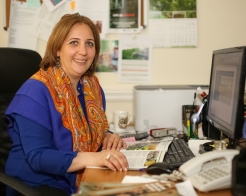 Nino Gvianishvili Founder and General Assembly Member of BRIDGE Innovation and Development currently working at BRIDGE as a head of communications and campaign, has 16 years of experience in the field of internal and external communications and public relations. She brings expertise in brand development, writing, project management, web architecture, social media, digital media and event management. She joined Oxfam in 2007, and during her professional career has served in public, private and educational sectors. As a public relations consultant she was extensively involved in improvement of public awareness and enhancement of organisational participation in reform processes in the country. She has extensive experience of strategic media briefings, facilitation of journalist training, management of advertising campaigns and implementing campaign projects for public awareness raising.
Nino holds Masters Degree in English language (Tbilisi State Institute of Foreign Languages) Diploma of interpreter and Diplomas from International Strategic Communications Training Courses in US Chlopak, Leonard, Schechter's and Associates, in Washington DC, "Marketing and Public Relations Courses" at ESM European School of Management and master classes for photography and digital media.
With native Georgian, Nino is fluent in English and Russian languages.