Levan Dadiani
Founder and General Assembly Member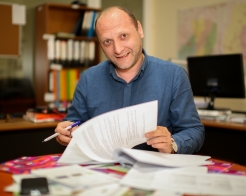 Levan Dadiani, Founder and General Assmebly Memeber of BRIDGE, is an experienced management professional with over 15 years of relevant work experience in both the private and public sectors. Throughout his career, he has developed skills in designing and implementing agricultural strategies, agribusiness investment projects, conducting relevant consultancies with regard to rural development and rural businesses, managing agricultural investment and funding activities through relevant credit and grant schemes, managing development programs'/projects' budgets, supervising staff teams, and overseeing a variety of reporting needs. In his current role as the Agriculture and Food Security Policy Program Manager of OXFAM/Georgia Mr. Levan Dadiani oversees the implementation of all agriculture and rural livelihoods development related activities.
Prior to serving as Program Manager, Mr. Dadiani was working as Operations Manager for the largest agribusiness company in Georgia – Agrigeorgia LTD (subsidiary of Ferrero SpA) managing the agronomic, mechanization, construction as well as logistics, procurement and warehousing divisions of the company.
Previously he held the post of Executive Director of an NGO "Georgian Mountain Federation" (GMF) funded by the Swiss Development and Cooperation Agency (SDC) specialized in Sustainable Mountain Development field. In this role, Mr. Dadiani developed crucial monitoring, evaluation and analysis skills as well as managing participatory processes for rural business planning and capacity building of community groups. In addition Mr. Levan Dadiani has substantial experience in agricultural policy at both national and international levels through his experience at the Georgian Embassy in Rome, as First Secretary responsible for relationships with Rome based UN Agricultural Agencies, and in the post of Adviser to the Minister of Agriculture of Georgia.