Ana Kvintradze
General Assembly Member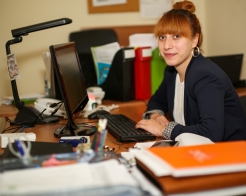 Ana Kvintradze is a member of BRIDGE.
Ana has eight years of practical experience in the field of social and evaluation research management and analysis. Ana worked as a Monitoring and Evaluation Coordinator for Oxfam's South Caucasus Regional Food Security Project, coordinating M&E related activities, as well as various research studies implemented within the region. Her experience also includes management of Village Census in the National Statistics Office of Georgia (Geostat), as well as expertise in diverse areas in the fields of social research implemented at ACT Research. These include: civic engagement, gender, agriculture and livelihoods, business environment, settlement infrastructure, household surveys, etc.
Ana possesses excellent research and analysis skills utilising various methodologies of qualitative, quantitative and mixed methods approaches. She also has excellent leadership, coordination and management skills of complex and multi-country projects. The projects she has coordinated previously have received high assessments from external data auditor, IMPAQ International.
Holding her Master's Degree from the University of Oxford in the field of Sociology, Ana is currently a PhD student at Tbilisi State University. She is currently an Invited Lecturer of Research Methodologies at the Caucasus University.
With Native Georgian, Ana is fluent in English and Russian languages.