Ketevan (Keti) Getiashvili
Founder and Board Member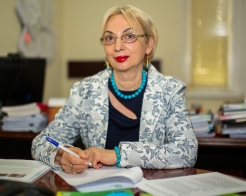 Ketevan (Keti) Getiashvili is a Founder and Board member of BRIDGE – Innovation and Development. Her duties in the organization include: (a) defining the strategic goals, main directions and operational plans for the Organization; (b) ensuring effective management of the organization.
Mrs. Ketevan Getiashvili has 23 years diverse complementary work experience in Humanitarian and Development Programs Management on Sustainable Rural Economic Development, Microfinance, SME development, Community Based Primary Health Care, Community Based Disaster Risk Reduction, Active Citizenship, Gender equity and emergency response related works.
Being Country Director of Oxfam GB in Georgia for 15 years, Mrs. Ketevan Getiashvili possesses excellent leadership, personnel management and representation skills, as well as donor liaison and contract management competencies. Her passion in international development has brought her to work in many countries including Tajikistan and Yemen, and is consequently able to draw on a range of development perspectives and approaches.
Mrs Ketevan Getiashvili has been the Chairperson of the Steering Committee for MFI - Small Business Development Foundation since?; She has been Public Committee Member for Social Assistance Program led by Georgian Government; She also has been Board Member of Community Health Fund, providing primary healthcare services to vulnerable population of Zugdidi district.
Mrs. Ketevan Getiashvili holds professional degrees in Business Administration (Specialized MBA course, Vienna International, 1991); Masters in Linguistics, (Tbilisi State University, 1984); Trained specialized on Gender equality, Market for Poor's and resilience building approaches.
With Native Georgian, Ketevan Getiashvili is fluent in English and Russian languages.