INTERNATIONAL CONFERENCE ON FOOD SECURITY AND NUTRITION IN TBILISI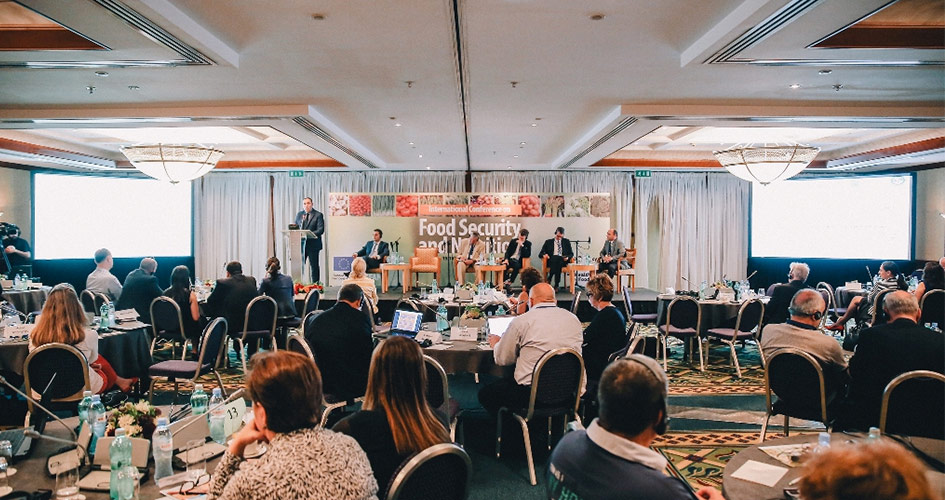 An event for Experts, NGOs and Civil Society Representatives
Oxfam in Georgia hosted an International Conference on Food Security and Nutrition. The event brought together policy makers, civil society organisations, key stakeholders and international experts from the region and across Europe to discuss the current situation, challenges and best practices in food security and nutrition policy development that support local food production.
European country representatives showcased the international models on developing inclusive policies and programmes for small holder farmers. International and local experts presented comprehensive approaches to developing healthy nutrition and food systems. The conference aimed to strengthen cooperation between neighbouring countries and generate information amongst policy makers from the region of the progress and direction each country is making.
The two day event divided into 4 panel sessions highlighted challenges and best practices for policy development in four key areas that are essential for shaping healthy food systems in South Caucasus context. The discussions focused on supporting small-holder farming, resolving nutrition challenges in the region, designing effective Food Security and Nutrition monitoring systems with active engagement of civil society and gender mainstreaming in policies. The conference aimed to strengthen the support and commitment of civil society, policy makers and key stakeholders in food security and nutrition in the South Caucasus.

Panel 1. Healthy Food Systems: innovations that support small-holder farming and local food production the opening panel explored the approaches and innovations that support small-holder farming and local food production. What policies and strategies can support in the development of healthy sustainable food systems, programmes and investments that can promote small-holder farmer development and inclusion.

The Deputy Minister of Ministry of Agriculture in Georgia Mr. Gocha Tsopurashvili and the Deputy Minister of Ministry of Agriculture Armenia Mr. Armen Harutyunian opened the conference panel by giving an overview of the progress in agricultural development in their respective countries.
"The development of the Agricultural Strategy was possible with the public support in the process, sectoral groups and commissions with specialist of civil society. The FS recommendations address land issues, general security, primary production, nutrition – and require budget and analysis. We will continue to work with Oxfam and look at the programs that could be developed for further progress of food security systems of the country. said "Mr. Gocha Tsopurashvili, Deputy Minister of Agriculture of Georgia

Oxfam policy advisor Mr. Robin Willoughby gave examples of what type of investments work: rural infrastructure, irrigation and water points, storage facilities, wholesales and local markets. Knowledge generation and
dissemination; agricultural research and development.
Mr. Willoughby gave numerous examples of how to improve access to markets for the small-holders e.g. through cooperatives, which create economies of scale that can reduce risks in terms of credit and by giving voice to producers; public procurement can play a critical role in supporting small holders, for example, the Brazilian food procurement programme directly sources from small holders for the state, and local schools are mandated to source 30% of their food locally, which has reached around 200,000 small holder farmers.
Agriculture is one of the most dynamically changing sectors and now closely attributed to science and innovation. Small holders need to access information to keep up with the changing market to enable them to know optimal use of resources and adopt innovative and cost efficient practices.
Hungary warns against market liberalisation and urges both governments to start promoting local products today. It is risky to assume that local population will take preference of local products over imported ones and the government, civil society and the media alike should contribute to popularising rural lifeand locally produced food. The attitude towards the rural life and small-holder farming has seen a great transformation over the twenty years or so, before it was shunted as an old-fashioned and unpopular practice for the peasants but now there are numerous various rural activities emerging such as rural tourism. It is the role of media to encourage the promotion of rural image and locally produced food and increasingly cover stories of activities, festivities and farmers successes.

Panel 2. Healthy Nutrition Systems The conference took on a food system approach which encompasses the many stages of converting natural resources and human effort into food to sustain human life. These stages – from "farm to flush" – include growing, harvesting, processing, packaging, distributing, marketing, trading, consuming, and disposing of waste. Most of those steps are called the "supply side" of the food system referring to various forms of supply chains. The "demand side" can be affected by price, location, preferences, knowledge, tastes, cultural habits, and perceptions. Public and private investments can make each of these steps more efficient in producing multiple outcomes, including improved nutrition.
The government policies have a significant share in determining how agriculture and food systems contribute to healthy diet and improved nutrition. They can catalyze support from the private sector to make positive contributions and guide consumers to make good choices.
The conference participants presented some of the research findings on the topics of nutrition, food security monitoring and gender sensitive approaches to agriculture and nutrition relevant for the South Caucasus Region and beyond.

Mr Robizon Tsiklauri of National Centre for Disease Control gave an overview of the national
strategy on healthy nutrition which will soon be adopted. It links the coordinated work of different agencies on how to ensure that food supply is stable and available for everyone.
The FAO Regional representative Mr. David Sedik presented the FAO's approach to food systems and emphasised the necessity for nutrition-sensitive interventions.
"The focus of our interventions in nutrition is more on supply of diversified food, but what about the demand for nutritious food? Education and awareness raising is required to increase the demand for nutritious food," said Mr. Jonathan Puddifoot, Deputy Regional Director – Oxfam MECIS region

Panel 3 Effective Policy implementation and Monitoring Systems Food Security is an inter-sectoral issue covering at least three policy areas – agricultural, social and health policies. An effective food security monitoring system is necessary in order to monitor and analyze trends of availability, stability, access and utilization of food.
The panel discussion focused on two vital aspects of Food Security and Nutrition monitoring. On the one hand, the panel experts discussed the importance of relevant data collection and data utilization, current gaps and capacity building needs and on the other hand strengthening the policy implementation monitoring system and the role of the civil society in impact assessment.
Panel members emphasized the importance of using the monitoring data which can identify and track risks and opportunities at the national and household levels and support the Government with timely information for decision-making. Food security monitoring allows for the assessment of the impact of food security measures/actions on stakeholders and beneficiaries, including the most vulnerable groups. It is a tool that can be used to evaluate the achievements and point to areas that require adjustments.
Mobilizing civil society actors and engaging in collaborative advocacy is one of the proven effective practices to initiate changes in policies. It is equally important that these stakeholders and the civil society are engaged in policy implementation oversight and impact assessment and the government should allow a space for feedback mechanism and participatory monitoring.

Panel 4 Empowering women in FSN: case studies and best practices
Participants of the panel talked about women's role in agricultural life, mainly about the main obstacles that rural women face nowadays and how the State can support their empowerment. In the case of Georgia and Armenia it has been proven that despite their active agricultural life, women do not own land, they do not have registered property which hinders their access to bank loans. Often Women consume less food varieties than other family members and have limited resources to use for healthcare The participants unanimously emphasized that the more economically independent a women is, the more motivated and productive she will be in her work, while the most active ones can even take steps forward and engage in the political life which contribute to the welfare of their families, communities and the country. The panel discussion also reviewed the State policy on Food Security in Georgia from a gender prospective and the recommendations that need to be adopted in order to make it more gender sensitive, and wThere is also a need for institutional mechanisms and gender expertise to be in place in the the Georgian Government to ensure that different international agreements on gender equality in the country are effectively implemented and mainstreamed.
The conference gave voice to local farmers, who spoke of the reality on the ground and provided space to exhibit local products. the event held degustation corner of Georgian local food products from the small-holder producers, which included cheese, honey, nuts and wine


The international conference built on FSN evidence of various research and expertise and generated a deeper understanding on the Food Security and Nutrition issues by creating a platform to showcase international models and experience on FSN, discussing the key research findings by Oxfam and other stakeholders and bringing together policy makers, various stakeholders and key thinkers involved in Food Security and Nutrition policy development and implementation.