Social Enterprise Alaverdi Blue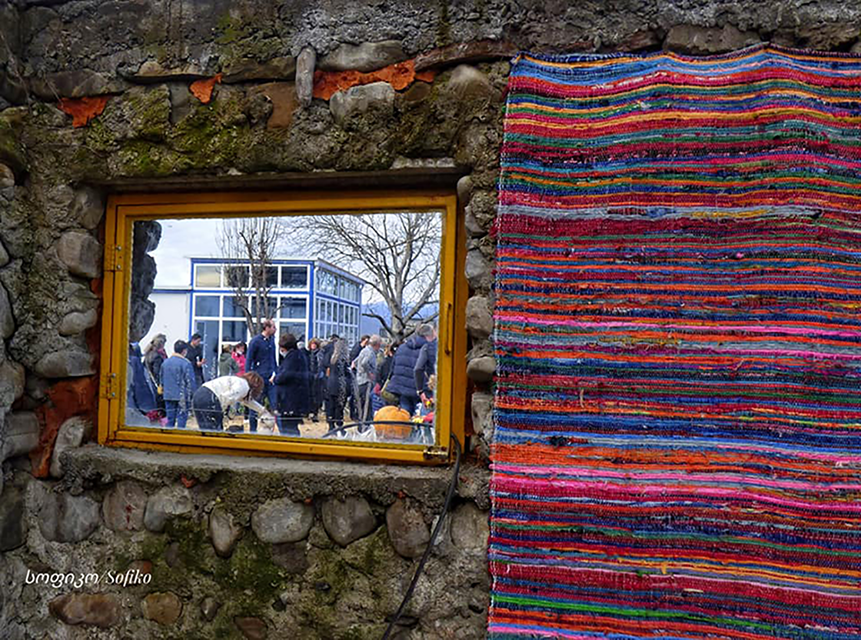 Bridge-Innovation and Development, together with women living in the village of Alaverdi (Akhmeta Municipality), has established a social enterprise Alaverdi Blue for the development of sustainable rural tourism, which creates opportunities for economic activity and self-employment for socially vulnerable populations. The aim of the social enterprise is to promote the economic empowerment of local socially vulnerable groups through employment and capacity building.
Alaverdi Blue offers the following services:
Conference facility for 25 people - Fully equipped, modern training and conference venue that can accommodate both small and mid-sized meetings and conferences. On-premises catering services are also available upon request.
Guest house - Alaverdi Blue offers comfortable and affordable accommodation in its four-room guesthouse. Each room has a lounge space, an attached bathroom, a shower with running hot and cold water, and a toilet facility. The total accommodation capacity is 19 single beds. Rooms offer incomparable views of the Caucasus Mountains range. Guests are given an opportunity to taste and enjoy traditional Georgian food and relax in a calm and peaceful atmosphere.
Café - The café offers a diverse menu with a variety of authentic Georgian meals, desserts, and drinks. All meals are cooked on the premises by experienced local women as Alaverdi Blue runs a fully equipped kitchen that is set up in line with food safety standards. Guests can also enjoy Pankisian khinkali produced by the beneficiaries of the daycare center established by Alaverdi Blue partner organization Medina 2015
Take away/Cooking class In a well-equipped and cozy kitchen of Alaverdi Blue local women prepare tasty, diverse, and safe food orders to go from the café's delicious menu and beyond. See what's cooking and come pick it up or the order can be brought to your doorstep. Those interested in cooking classes are welcome to join the kitchen team and learn how to prepare a wide variety of Georgian meals.
Cool storage facility and milk quality assessment laboratory - Alaverdi Blue runs a multi-functional and technologically advanced cheese production infrastructure that includes services such as a cool storage facility for Tushetian and other varieties of local cheese, vacuum packaging, branding, masterclasses, where local farmers are trained/coached on the whole value chain of cheese production. The facility also offers milk and cheese quality assessments against the common standards. For these purposes, a small laboratory is established and is run by a highly competent veterinarian.
Cheese Cultural Route - Ten family entrepreneurs and cheesemakers- 5 from Tusheti and 5 from Zemo/Qvemo Alvani and Ilto valley- represent the cheese route. Each location is inclusive and meets food safety standards. Cheese route tours include cheese and other dairy production masterclasses, where visitors are welcome either to observe or participate in the process. The route concept will be presented to the Ministry of Culture for certification, which will help in its wider promotion among local and international tourists. Greater recognition of the route and more tourist activity will translate into additional income for family entrepreneurs and cheesemakers.