Giorgi Datusani
Founder and Chair of the Board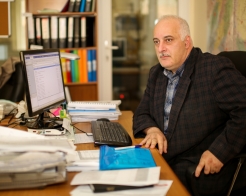 Giorgi Datusani is a Founder of BRIDGE. and Chair of the Board. His duties in the organization include defining the strategic goals, main directions and operational plans for the Organization, coordination of quality and timely implementation of all programme activities by programme staff and partner organizations, coordination with key players under the programms framework, and providing technical support to implementing partners , including their capacity building.
Mr. Giorgi Datusani has 19 years of diverse complementary work experience in Humanitarian and Development Programs Management in Sustainable Rural Economic Development, Community Based Primary Health Care, Community Based Disaster Risk Reduction, Active Citizenship, emergency response related works, water-sanitation community projects.
Key competencies include: DRR methodologies including PCVA and multi-hazard risk assessments, strong experience in facilitating the mainstreaming of DRR into local and district DRR planning, broad knowledge of development issues and national policy and practices in DRR, community mobilization skills and experience of participatory analysis and planning, experience in capacity development and designing/facilitating capacity development in DRR for local partner organisations. Knowledge and proven experience in project cycle management, including project planning, implementation, expertise in design and implementation of Monitoring & Evaluation frameworks, coordination with government, INGOs, donors, local partners.
Mr. Giorgi Datusani holds professional degrees of Doctor of Biologic Science; Lawyer;
With Native Georgian, Giorgi Datusani is also competent in English and Russian languages.