Nino Kareli
Founder and Board Member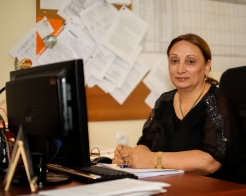 Mrs. Nino Kareli is a Founder and Board Member of BRIDGE. She has played a valuable role in establishing BRIDGE as an organization based on democratic governance principles. Her duties include overseeing areas ranging from Business Analytics & Operations' Finance to Contract Management and continuous organizational development.
Mrs. Nino Kareli has more than 20 years of strategic financial consulting and business management experience with Oxfam in many countries including Iraq, Israel & Palestine, Russia, Tajikistan and Yemen, mostly in the capacity of Country Management Team member. Nino's background enables her to provide colleagues with valuable insights into how organizations can optimize their choices, adopt management and use resources in most cost-effective ways. With extensive experience in people management Nino puts the main focus on capacity building and development of her direct reports as well as the wider programme team.
Prior to joining Oxfam and BRIDGE Mrs. Kareli was Microfinance Program Specialist at UK charity organization "Children's Aid Direct" managing micro enterprise development programmes in Georgia and in Liberia as well as managing the whole programme of the organization for more than three years
Mrs. Nino Kareli is a certified auditor with native Georgian and fluent in English and Russian languages.