Valentina Kondakhchian
Founder and General Assembly Member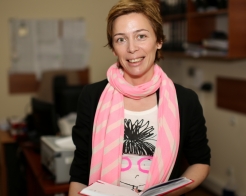 Valentina (Lala) Kondakhchian is Founder and General Assembly Member of BRIDGE
Alongside her commitment to BRIDGE, Lala has more than ten years experience, the majority with Oxfam GB, in providing specialist HR, supply and logistics services to program operations in Georgia, Russia, Egypt and Lebanon. Her expertise includes both development and emergency settings, as well as capacity development of local partners.
Lala holds a bachelor degree in Computer Systems and Networks from Georgian Technical University has a certificate in Humanitarian Logistics from Fritz Institute, UK and a certificate in HR Management from International Centre for Social Research and Policy Analysis (ICSRPA).
Her life motto is "Change takes time, but it's entirely possible".